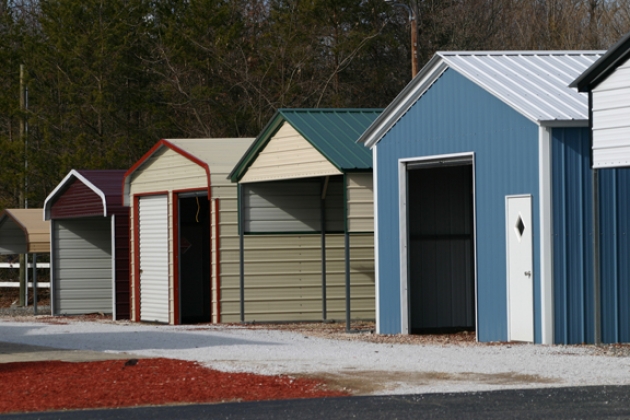 When it comes to prefabricated buildings metal is best. Prefabricated metal buildings are strong, durable and easy to construct. They are a versatile option anywhere a building is needed and a major construction project is not desired. Whether you are looking for a metal carport, storage building, metal garage buildings, barn buildings, metal RV covers, or even commercial metal buildings, by opting for metal building construction over traditional wood construction, you can save yourself time and money during the construction process.
One of the biggest factors that results in the cost efficiency of most metal buildings is the decreased cost of construction. Rather than a drawn out and lengthy construction process using wood frame construction for buildings, metal buildings can go up quickly and easy and prefab metal buildings make the process simple. Prefabricated metal buildings are available for everything from the smallest residential storage building (like a shed) to a large commercial warehouse building. When it comes to residential homeowners that need some extra space, whether it be for storage or garage space, metal building kits offer an opportunity for reduced costs by allowing homeowners to construct their own structure. Rather than having to hire a professional contractor to construct a metal building from the ground up, homeowners can purchase a metal building kit and construct their own building, needing only minimal carpentry skills. Metal building kits can be used to construct a shed, carport, garage, barn or even a larger structure. The kits can be used for both large and small buildings. Metal building kits contain all of the metal building components needed, along with complete instructions for constructing the building.
Using metal building kits, however, isn't simply for homeowners looking to construct small buildings. Metal building systems are offered by metal building manufacturers even for large commercial buildings. Metal building contractors can utilize the prefabricated systems or building kits to construct a structure quickly and efficiently. While the prefabricated metal building packages cost more than the price of starting with basic metal building supplies, the money saved in construction costs offsets a portion of the higher materials prices and the time savings is often worth the added price. This is a great option for businesses that are looking to be up and running quickly. Metal buildings are typically constructed from steel, and in addition to the ease with which they can be constructed, there are other benefits to these buildings. Metal or steel buildings require virtually no maintenance and upkeep, are strong and durable, hold up to rain, wind, snow and other weather conditions, and are not subject to problems due to water and insect damage the way wood construction buildings are.
The one main issue with metal buildings is their potential for rust or corrosion, and this typically only occurs if there is first some damage to the exterior finish, such as a large scratch or dent. Rust formation can be avoided by periodically checking any areas that may be exposed and treating the surface with a sealer to prevent corrosion. Another issue with some metal buildings is that they can be subject to denting from objects hitting them with some force. This is more likely to happen to a small building made from aluminium than a large steel building, but it is one of the drawbacks to these types of buildings. Metal buildings for the most part, however, have very few drawbacks when it comes to durability and maintenance issues.
Metal building prices can vary considerably depending on the extent of construction involved, the materials needed, the gauge of metal or steel, and the price of metal or steel at the time you are looking to purchase the building. For example, steel prices have been lower than they have in years, after record highs, so it is currently a great time to consider purchasing or constructing a metal building and there are many metal buildings for sale at reasonable prices, due to the reduction in steel costs. As demand continues to increase, however, the prices of steel are expected to increase again in the near future, which will result in higher metal and steel building prices once again. So, if you are looking for a way to add extra storage, extra garage space, or even have a need for additional buildings, metal construction is often a wise choice.